Dimmitt High School
Class Of 1969
In Memory
Teresa Acevedo VIEW PROFILE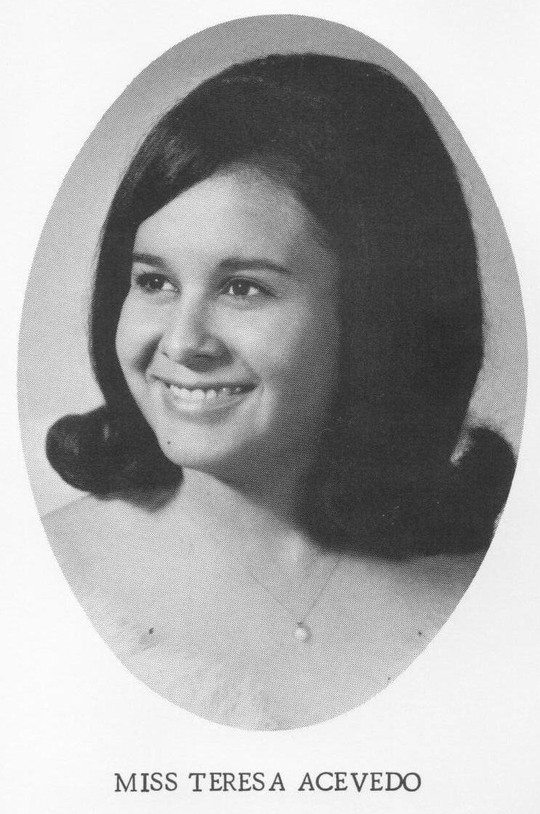 DIMMITT — Vigil services for Maria Teresa Longoria, 51, of Dimmitt will be at 7 p.m. today at Foskey-Lilley-McGill Ivey Chapel.
Services will be at 10 a.m. Friday at Immaculate Conception Catholic Church with the Rev. Fern Couture officiating and the Rev. Guillermo Morales assisting.
Burial will be in Castro Memorial Gardens under the direction of Foskey-Lilley-McGill Funeral Home of Dimmitt.
A rosary was said Wednesday at Foskey-Lilley-McGill Ivey Chapel.
She died Tuesday, April 24, 2001.
She was born May 24, 1949, in Mexico and married Dagoberto Longoria Jr. on Oct. 2, 1971, in Dimmitt. She moved to Dimmitt in 1964 and graduated from Dimmitt High School in 1969. She worked in the Dimmitt Public Schools after graduation until her retirement.
Survivors include her husband; two daughters, Alma of Amarillo and Christiana of Dimmitt; a son, Fabian of Big Spring; her mother, Marcelina Acevedo of Dimmitt; four brothers, George, Luis and Guadalupe Acevedo, all of Dimmitt, and Miguel Angel Acevedo of Salt Lake City, Utah; a sister, Minerva Ortiz of Canyon; and one grandchild.
Maria Longoria
Click here to see Teresa's last Profile entry.